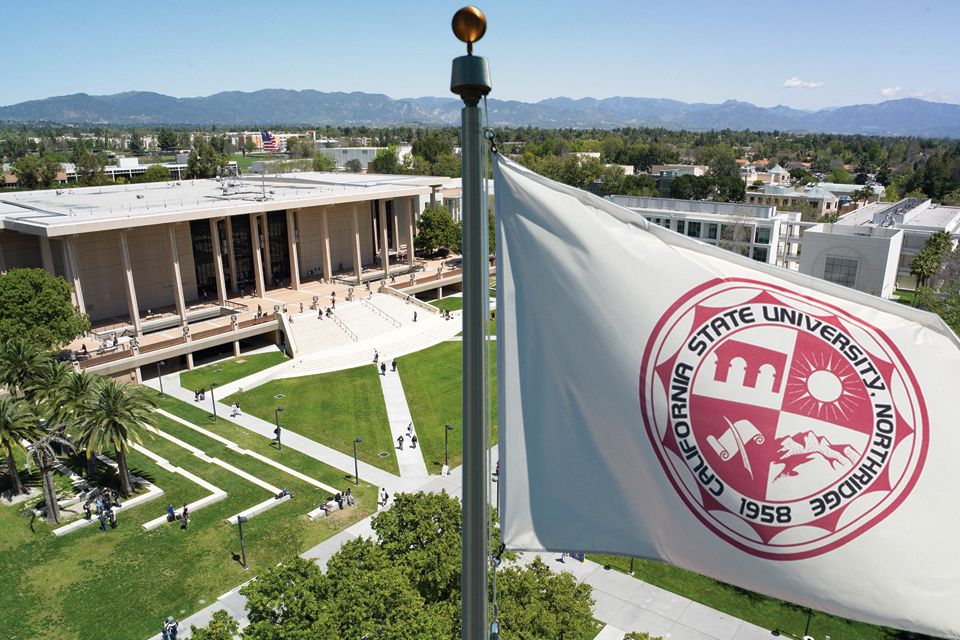 Review on the myNorthridge Portal
This powerful educational database serves as the main source of information for the students that are applying to the CSUN, already admitted ones, or currently studying at the university. It was created to offer a range of campus resources and services on one website. In order to have access to all of the features, register and log in.

Applicant and admitted students can view a calendar with all of the campus events, videos on how to register for classes, read important fee information, find important date reminders, new fees, look through a personalized checklist, read amazing stories of your classmates, and many other things.
Students that are already studying at CSUN can also find lots of useful information on the portal. They can:
Check out a list of future activities and events
Read important announcements
Find the contact information of the needed department
Get informed about housing options and fill and housing application
Look through your grades, order transcripts and view your credits
Read everything that you need about financial aid
Get access to Moodle
Apply for scholarships
And read through many other great details
Take your time to register at the portal and enjoy all of the useful information that you will get.
Contacts of the myNorthridge Portal

The portal provides with the following contact information:
About myNorthridge Portal
The myNorthridge portal is crammed with information. It is designed in white, black and red colors, which makes the website very eye-catching. It is easy to find the needed content. All of the information is grouped into a tab navigation bar. When you log in, you will spot the following seven tabs:
Home
Academics
Services
Activities
Financial Matters
Mobile
Add page
The portal provides an opportunity to view it on your phone. Just click on the Mobile tab. Also, it is possible to create your own tab.
If you are not registered, you still have access to plenty of info. You can find a checklist of things that have to be done before attending classes, read details about advisement, the best places to study, tutoring, check on-campus housing options and rates, and many other useful guides. Do you love DIY projects? If yes, then you are in luck, the portal has a tab called Fun Stuff where you can locate instructions for some great DIY projects.
Besides, to make surfing the portal as simple as possible, the creators have made a Search feature, by the help of which you can quickly get to the information that you are looking for. Are you in search of the contact information of a specific department? Check out the A to Z mini tab. It contains an alphabetical listing of departments of CSUN.
Also, if you want to know when the most popular university events are being held, the portal has a University Calendar, designed especially for that purpose. Here events are grouped into categories, such as family, music, alumni, theatre events.
Program Description of California State University Northridge
The student portal provides all program descriptions. They can be found in the catalog archives. If a student hasn't found the needed information, he can fill out the Course Description Request Form. The CSUN offers undergraduate and graduate programs.
Here is a list with some of the undergraduate programs:
Accountancy
Africana Studies
Anthropology
Art
Asian American Studies
Athletic Training
Biochemistry
Biology
Business Administration
Central American Studies
Chemistry
Chicano and Chicana Studies
Child and Adolescent Development
Cinema and Television Arts
Civil Engineering
Communication Studies
Computer Engineering
Computer Information Technology
Construction Management
Deaf Studies
Economics
Electrical Engineering
Engineering Management
English
Environmental and Occupational Health
Family and Consumer Sciences
Finance
French
Gender and Women's Studies
Geology
History
Information Systems
Journalism
Kinesiology
Languages and Cultures
Liberal Studies
Linguistics
Manufacturing Systems Engineering
Marketing
Mathematics
Modern Jewish Studies
Music
Physics
Religious Studies
Sociology
Theatre
Also, CSUN offers an Academic Fists Year Experiences program that develops and improves both teaching and learning in freshmen courses and academic programs.
For high-achieving students, the university offers a General Education Honors Program. This program promotes the maximum development of the student's academic potential.
Also, you can choose to earn a Post-Baccalaureate University Certificate. There is a great variety of them.
About California State University Northridge
CSUN is a part of the 23-campus California State University system. It is one of the largest educational institutions in the USA. It is a liberal arts university that offers also technological and professional programs. Around 38,000 students are enrolled, both full-time and part-time. This establishment consists of nine colleges and has more than 2,000 professors employed. It provides with 69 disciplines that lead to earning a bachelor's degree, 61master's degree programs and doctorates in educational leadership and physical therapy. Moreover, it offers 14 teaching credential programs.
The mission of CSUN is to help students pursue their career goals and to promote intellectual progress. This establishment is fully committed to teaching, excelling, respecting, and is always encouraging innovation and creativity.
Reviews for California State University Northridge
Most of the students claim that their experience at CSUN was amazing and that they never regretted going there. They say that the best part of studying was the professors because they were very passionate about their subjects and even though they gave a huge amount of homework, the semester was worth the sleepless nights. Also, students that were going to school full-time and working full-time said that the university makes it completely possible to combine both things.
The only thing that CSUN lacks is action in emergency situations regarding the students' safety. Also, there were students that wished there were more opportunities for networking and internships for students majoring in anything tv/entertainment related.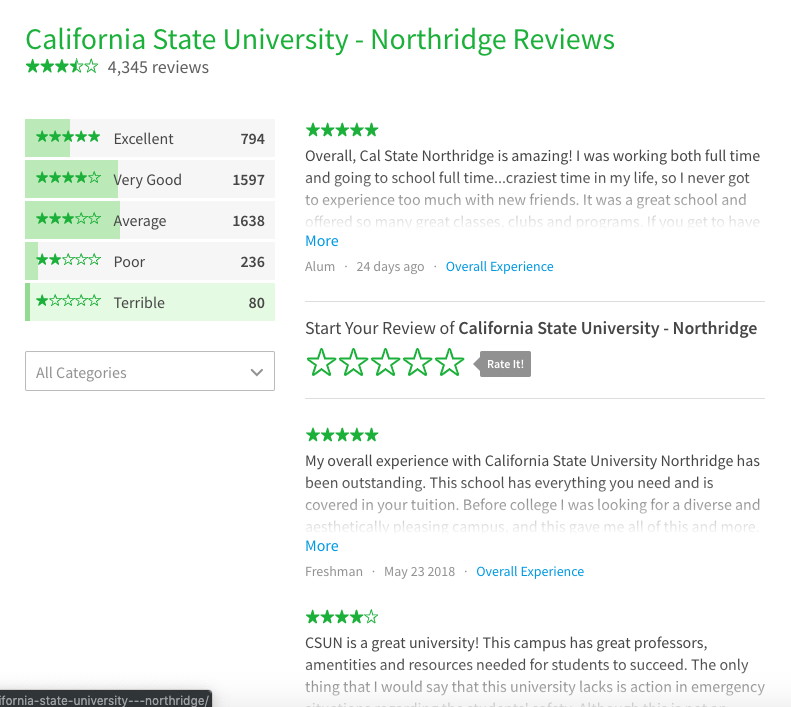 Pros and cons of California State University Northridge
It is impossible to maintain both sides. And for that reason, we created a list of the pros and cons of studying at CSUN and left for you to choose the side.
Pros:
Clean, open and large campus
Variety of groups and organizations
Very diverse
Accredited professors
Provides with many opportunities
Cons:
Not enough social life
Food is a bit expensive
Academic advisers are hardly available
Does California State University Northridge have a campus?
Yes, and a pretty big one. Freshmen are not required to live on campus, but more then half choose to. The top priority on campus is safety. The Department of Police Services patrols the campus day and night.
Besides, the Matador Involvement Center offers a great variety of clubs and organizations. It is the best way to meet people with similar interests. Also, Greek Life is huge. There are more than 40 0 fraternity and sorority chapters.
Moreover, CSUN has a resource called the Pride Center, which supports lesbian, gay, bisexual, transgender, queer and questioning students.
Tuition and Fees at California State University Northridge
The tuition fee for undergraduates is $1,665 – $2,871 depending on the units. In addition to this, it is mandatory to pay the following fees – associated students, student union, instructional-related activities, health facilities, health services, campus quality. The tuition fee for graduates is $2,082 – $3,588 depending on the units. Also, students have to pay mandatory fees. Students that are not residents of California must add $396 to the tuition for each unit.
The teaching credential fees, doctorate fees, as well as non-refundable fees and charges can be found on the student portal.
Conclusion
The myNorthridge portal is the biggest database of CSUN. It contains all the information that a student may need. If you are an applicant, admitted, or current student of the university, and haven't heard of this source, or maybe are wondering whether you will use it, stop wasting your time on searching needed information on different websites and get registered, you will not regret it.
The portal provides detail on various educational topics. You can read the current news, schedule a campus tour, check out the list of majors, register for a course, pay your tuition, apply for financial aid, and do almost anything through the portal.
Are you looking for fun stuff happening on campus? Do you want to get more involved in the life of the university? Wondering what is your schedule for tomorrow? Or maybe you want to know what is for dinner? Looking for the Tseng College degree programs? You can find out all of that information, and even more, on the myNorthridge portal. All you need to do is log in, take your time and explore this powerful educational webpage.